Canadian mining companies played a key role in delivering a successful year for the world's biggest mining companies in 2019, according to PwC Canada's recent Canadian Mine report.
Of five mega deals noted in PwC's Global Mine 2020 report, four involved Canadian companies, the largest being Newmont's acquisition of Goldcorp and kirkland Lake Gold's purchase of Detour Gold.
PwC notes Canadian miners helped the industry enter a challenging 2020 from a position of strength.
Similar to last year, six Canadian mining companies made the global top 40 list and are managing through the covid-19 crisis relatively well. In 2019, these six companies reported a net profit margin of 19%, versus 9% for the global top 40.
Gold miners dominated Canada's presence on the list, with four of the Canadian companies focused on that sector. Among the notable moves was Kinross Gold Corp. (No. 40), which returned to the top 40 for the first time in several years after reporting increased revenues, earnings and margins in its 2019 results.
Topping the list of Canadian companies was Barrick Gold Corp., which ranked ninth (up from 11th in 2018), while Agnico Eagle Mines Ltd. saw the largest jump, rising to 17th from 24th in 2018. Agnico Eagle benefited from higher gold sales volumes as two new deposits in Nunavut came into commercial production in 2019.
Even as mega-deal activity slowed recently, the largest transaction so far in 2020 also involved two Canadian-listed companies: SSR Mining Inc's proposed $2.4 billion merger with alacer Gold Corp, which will merge two companies with mines in four jurisdictions to create a diversified portfolio.
"For Canadian miners, mergers and acquisitions continue to offer opportunities to attract capital and help companies emerge stronger from this challenging period," PwC says.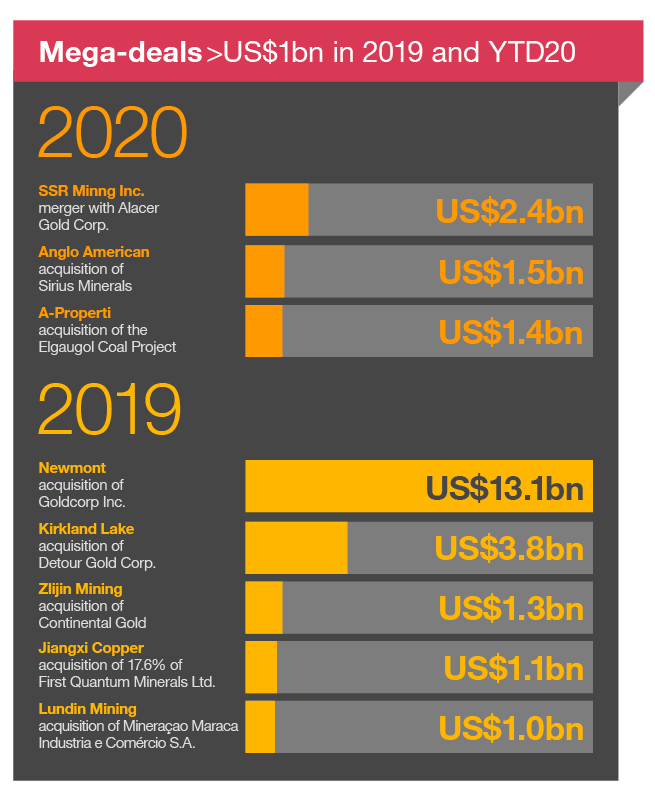 "The strong performance of Canada's largest mining companies in 2019 speaks to their continued progress in recent years," said Kevin Chan, National Mining Leader, PwC Canada.
As a whole, the top six Canadian companies reported a significant rise in their market capitalization. Global mining companies raised capital expenditures by 11%, reflecting efforts to position themselves for long-term growth.
Cybersecurity blind spot
Addressing the challenges and opportunities ahead include doing more to deal with cybersecurity threats and making environmental, social and governance (ESG) factors a top priority, says PwC.
PwC's 2020 CEO Survey  showed the mining industry has a potential blind spot around cybersecurity. Just 57% of global mining and metals CEOs expressed concern about cyber threats, with 12% extremely concerned.
Across all industries surveyed, 73% were concerned (33% extremely so). Mining and metals CEOs also tended to cite external factors, such as rising public concern over privacy issues, as their top cybersecurity considerations.
Global mining and metals CEOs increasingly recognize the advantages of a strong ESG performance, with 72% of those participating in PwC's CEO Survey agreeing their response to climate change initiatives will give their organization a reputational advantage with key stakeholders. This includes investors, for whom ESG performance is becoming a leading guidepost for investment decisions.
"Canadian miners have excellent track records around holding management accountable for health and safety performance, but it's time to apply this across the ESG spectrum," PwC reports.